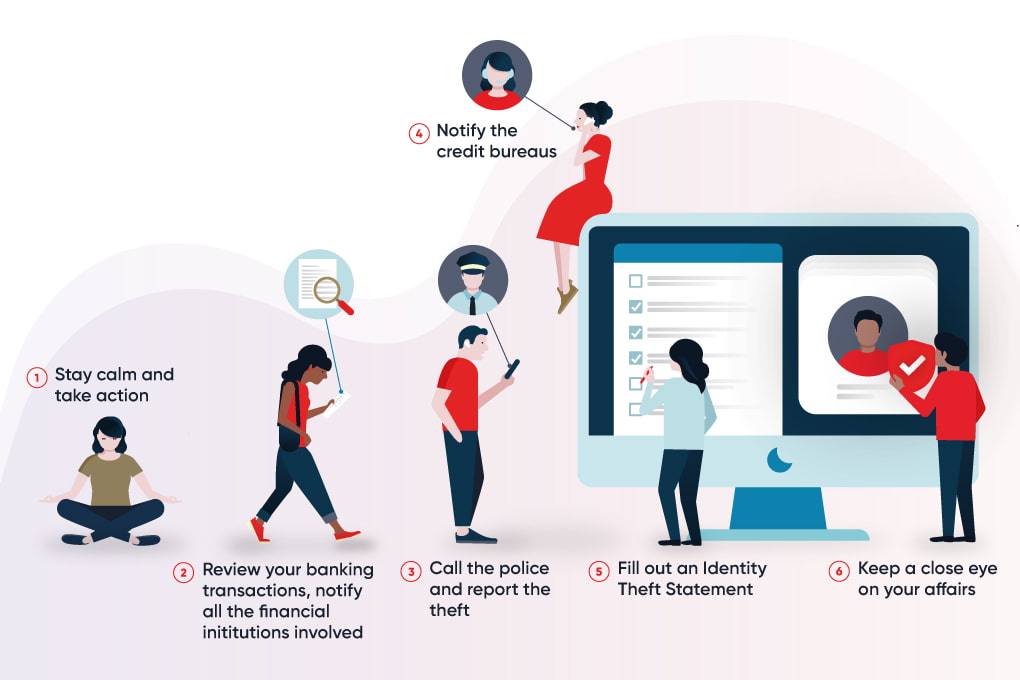 1 – Stay calm and take action
Once you've determined that you've been a victim of identity theft, keep calm, because there's a lot you'll need to do and it's important to be thorough and methodical. Keep track of EVERYTHING you do, including the names of the institutions and people you contact, the date and time of your call, the information you receive, confirmation numbers, etc. Check if you have access to assistance in case of identity theft, or if coverage is included with your home insurance. Insurance policies often provide access to specialized assistance and, in some cases, a lawyer's services. You may be able to claim some legal fees or costs incurred involved in restoring your identity.
2 – Review your banking transactions
Go over all the activity in your bank and credit card accounts to identify any fraudulent transactions and notify ALL the financial institutions involved. If an account has been compromised, the bank will let you know how to replace your cards, secure your account and get a refund, if applicable. If there doesn't appear to be any suspicious activity in your accounts, the bank will usually include a note on your file to warn of potential fraud.
Change all your card PINs (personal identification number) as well as your passwords for your email, social media and online banking accounts, since they're often linked. And whatever you do, don't use 1-2-3-4-5!
3 – Call the police
Reporting the theft will help you prove that the transactions carried out in your name are fraudulent (and may help the police catch the perpetrator).
4 – Notify the credit bureaus
The next step is to notify the two major credit bureaus, Equifax and TransUnion, of the identity theft. They'll include a "Fraud Alert" on your file so that any time a credit request is made in your name, you'll be contacted by telephone to make sure the request comes from you. You can also obtain a copy of your credit report so you can review any activity on your file.
5 – Fill out an official form
File a complaint with the Canadian Anti-Fraud Centre.
Lastly, if your ID has been stolen (e.g. passport, driver's license), contact the appropriate government agencies to report the situation and find out how to proceed.
6 – Stay alert
Once you've taken all the necessary steps, keep a close eye on your affairs. Someone who applies for government assistance in your name and has the money deposited to their account is a lot harder to detect than someone who is taking directly from your bank account. Read your mail carefully, even letters from institutions you don't do business with. If someone is using your name, a letter could be the first sign. The Fraud Alert you've placed with the credit bureau will also ensure you receive a call anytime a request is made in your name.
Additional tips to protect yourself against identity theft
While we would all rather win the lottery than fall victim to identity theft, there are several things you can do to reduce the risk of having your personal information stolen.
Never provide information by email or text message (access codes, PINs, phone numbers, social insurance numbers, etc.) and never open an attachment without being 100% sure of the source. It could contain a virus that allows a scammer to access the information on your computer or your phone.
Every time you give out personal information, make sure you know who you're giving it to. Check whether they really need the information—does a landlord really need your social insurance number to rent you an apartment?
Watch out for social media: displaying your birth date on Facebook means you'll get a lot of "happy birthday" messages, but it also makes things easier for scammers. It's better to not to include it in your profile, at least not in full. And it may seem like a no-brainer, but posting the picture page of your passport to announce your upcoming vacation is also big no-no. If you haven't already, change your settings so your profile is only visible to your friends.
If you need to provide confidential information, do it over the phone (by calling the number yourself), rather than by email. The less personal information you put online, the better.
Only carry the cards you actually need—replacing a wallet full of cards is a real hassle. Keep track of your wallet when you're out. Don't keep it in your coat pocket on the back of your chair at a restaurant, for example. A pickpocket will have no trouble making off with it.
Cut up any expired identity documents or cards into pieces (not just in half!) before throwing them out. Shred or tear up your personal mail. You want to make it as hard as possible for someone to get their hands on your information. It's also a good idea to put a lock on your mailbox to prevent any neighbours from stealing your mail.
If you don't have a passcode lock on your smartphone, set one up ASAP—your phone is a gold mine of personal information. Better yet, if it's an option, set up fingerprint or facial recognition to unlock your phone.
Several measures exist to protect you.